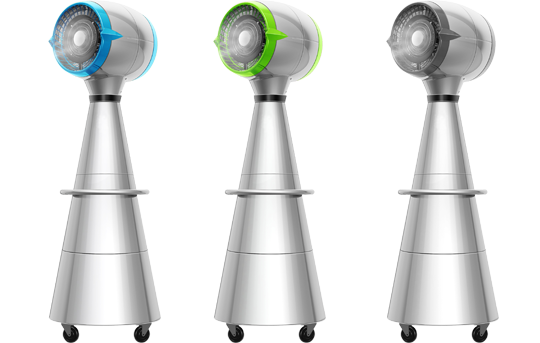 M.O Deluxe misting fan">
M.O Deluxe misting fan
March 22, 2015
Comments Off on

M.O Deluxe misting fan
M.O Deluxe misting fan
Here in Dubai, UAE or anywhere, sometimes you would need a stylish cooling mist freshness.
M.O Deluxe misting fan have been designed to cool the environment with a touch of modern style.
Fits in very well for special patio events, back yards, pools, villas and hotels. Aside from look, The deluxe misting fans reduce the surrounding air temperature by up to 8 degrees Celsius by emitting a fine mist spray of 10 – 25 microns with a pleasing flow of air.
The misting fan is an all in one mobile unit that once filled with water will last up to 16 hours without refilling. As a safety standard M.O has been equipped with Residual Current Device (RCD).
Technical Specifications:
| | | | | | | | | | |
| --- | --- | --- | --- | --- | --- | --- | --- | --- | --- |
| Power supply | Power | RPM | Mist | Noise | RunTime | EffectArea | RCD | Weight | L x W x H (cm) |
| 230v/50Hz | 230w | 1400 | 10-25 microns | <67 db | 12~16 hr | 30 m2 | 30ma | 54kg | 70 x 70 x 200 |