TEC-112 Industrial Cooler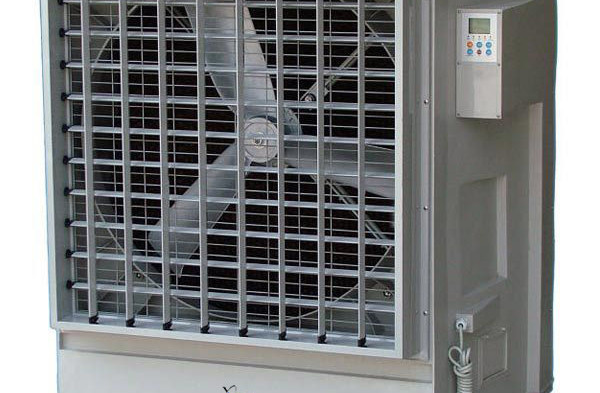 TEC-112 Industrial Cooler
April 29, 2014
Comments Off

on TEC-112 Industrial Cooler
TEC-112 is high performance heavy duty industrial outdoor air conditioner (evaporative air cooler, desert cooler or wet cooler)
Huge airflow Portable air cooler advantage.
Evaporative cooling, humidifying air.
Strong air flow, low noise.
Micro-controller control, color LED display, remote control function.
Handle design to be portable while brake caster easy to move.
Automatically swinging diffuser, bigger water tank, simple installation.
High quality motor, quiet fan, satisfying cooling effect and reasonable price.
Using good quality plastic, durable and UV-proof.
Special design, good look.
Three speeds fan are optional, soft wind, low noise, large air flow, fresh and comfortable air.
Low water level protection.
Compared with traditional air conditioners, energy will be saved more than 80%.
Equipped with energy-efficient motor, variable speed, work long time without regular maintenance.
Adopt the best quality parts, one-step molding PE outer frame, long and strong service life.
Water tank 100 Liters.
Suitable for any outdoor hot places, such as Warehouses, restaurants, Hotels, events, Parties, Patios, workshop, workers dormitory, recreation facilities, etc. The effective cooling airflow is 18000M3/h, power is 750W, very low energy cost.
Specifications
| | |
| --- | --- |
| Airflow | 18000 m3 |
| Power | 750 watt |
| Power supply | 220v /50 Hz |
| Fan type | Axial |
| Fan speed | 3 speeds |
| Water tank capacity | 100 L |
| Water consumption | 5-12 L/h |
| Application area | 60-90 m2 |
| Dimensions | 1120x720x1500 mm |
| Noise | 68 db |
| Net weight | 58 kg |
| Gross weight | 60 kg |
| Control | Remote + button interface |
| Swing | Auto function, left to right |
Air Coolers in Dubai to Enjoy the Heat !
Just like in every coastal land, its heat is what makes it special. It is what make people sign for a vacation journey to get a rich and intense sun rarely gets in other part of the world and lining its coastal line to enjoy sun bathing ala Middle East. It is also what makes people make sure that they bring hat and wear sun protector lotion, especially under a very intense temperature in a very open outdoor landscape like beach. But since no worries should distract anyone fabulous experience in Dubai, whenever you feel that your hat and sun protector lotion is not enough, simply turn on your air cooler. Air coolers in Dubai are designed to fit the hot climate of Middle East.
Whatever your needs are, it is only Dubai air coolers that will be suitable for your Dubai dwelling. Best air coolers in somewhere else may work best there, but will probably be too small to against Dubai punishing heat. It is indeed Dubai rich sunlight and exotic climate that make we get there, and to adjust let air coolers help. Take yourself to your most favorite spot in Dubai, and get relieve knowing that the best air coolers in Dubai are there.